Why are our dog beds different?
Society hound specialises in luxury dog travel beds that are portable and offer the best solution for your hound to join you on your adventures.
We want your dog to feel relaxed at home, but also when they are on the move, whether that is a trip to their favourite park, a weekend away or even further afield.
Not only do our luxury travel beds provide somewhere for your hound to sleep during the journey, but they also allow them to look out the window.
An elegant design made with high quality and durable materials to ensure that your hound can have a bed that you can rely on. It also means that your car seats will be protected from muddy paws and sandy snouts.
Our travel beds can accommodate small to large dogs thanks to the clips that allow the front cushion to fold over and the zips that allow the bed to open flat.
They also have a reversible cushion and a removable cover, because we know mess is a part of life.
Shop now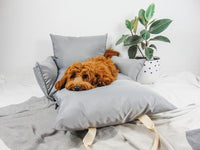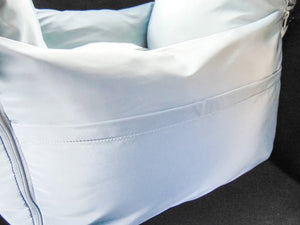 Pockets
We all know the number of items that need to be taken when you are travelling with your hound - leads, collars, treats, water bottle, and all other bits and bobs.
Safely put them away in the pockets and know that they will be ready for you and your hound for your next adventure.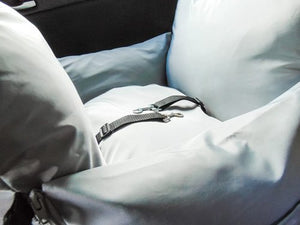 Car restraint
The bed comes with two restraints to secure your hound. These are designed to be used in conjunction with a harness or collar, when you are carrying them in the travel bed or travelling in the car.
They are adjustable to suit your hound's size, and only one is needed to safely secure your hound during travel.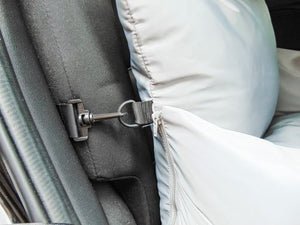 Strap for car seat
A strap that loops around the rear car seat prevents the bed from moving around during travel. This can be adjusted as needed and ensures that your hound sleeps soundly on their travels.
The strap is also detachable and clips are located on each side of the bed allowing you to rotate the bed to suit your hound's needs.
Wow. Our dog loves this bed, has the sides for her to dig her head into that has plenty of cushioning. She sleeps so soundly in her new bed. Well done! Appreciate that the pockets and clips, makes it so much easier when travelling. Overall awesome!!!

Erica Harrington
If you are considering get this bed, I can't recommend it enough!! I got it for my spoodle and she absolutely loves the travel bed. I spent months trying to find the right bed that I could take when travelling and use at home. Super convenient to use with the pockets on the side to stick any bits and bobs in. This bed is most definitely the best purchase we made for our dog! 5/5

Katie Dixie
My dog just loves this bed, and being able to use it for travelling has been great. She is snoring more than ever, if that was even possible. Has made taking her on trips easier than before with the handy little pockets.

Chloe Hooper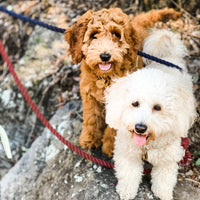 The hounds behind Society Hound
Society Hound was born out of a desire to spoil our pooches with the very best products available. 
Read on